Belly Fat
There are many reasons why people gain belly fat, including poor diet, lack of exercise, and stress.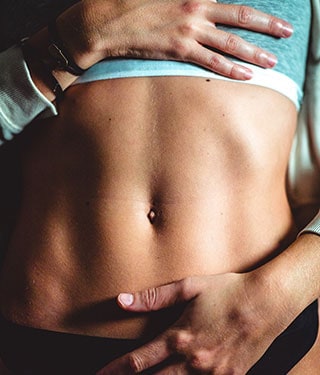 Body support
Belly fat refers to fat around the abdomen. Improving nutrition, increasing activity, reducing stress, and making other lifestyle changes can all help people lose unwanted belly fat.
There are two types of fat located in belly area: Visceral – that surrounds a person's organs and Subcutaneous – that sits just below the skin. Visceral fat is more harmful than subcutaneous as it can lead to a host of health complications including heart disease, stroke, type 2 diabetes, colon cancer and high blood pressure.
At Meyer Clinic our multi-disciplinary approach can help a person lose both visceral and subcutaneous fat through a combination of bespoke medical support, tailor-made nutrition and aesthetic procedure.
For people looking for a non-invasive, non-surgical belly fat reduction option, we offer CoolSculpting®. This is the only FDA-cleared non-surgical fat freezing (cryolipolysis) treatment. We have applicators specifically-designed to treat the abdomen, suitable for both men and women. Results are long-lasting – once a fat cell is gone, it's gone – and treatment benefits can be seen in as little as four weeks, with optimum results displaying at 16 weeks.
To build on and maintain positive results, a patient may opt to work with our nutritional therapists and our medical specialists.
Nutritional Therapy
Food is so much more than a source of energy. Ensuring you get the right foods in the right volumes can improve your health in many ways. By looking at the content of the diet as well as meal planning, meal timings and addressing the feasibility of these changes our noted Nutritional Therapist Dominique Ludwig can create a dietary plan to ensure the necessary nutrients are incorporated into your diet, taking possible lifestyle influences into account.
CoolSculpting®
This ground-breaking treatment quite literally freezes fat cells away. Technically known as cryolipolysis, CoolSculpting® offers a safe, non-invasive way to break down fat cells in localised areas of the body. CoolSculpting® delivers controlled cooling to target the fat cells underneath the skin. Once the fat cells are crystallised they pass naturally through the body. CoolSculpting® is particularly effective on belly fat.
Health Check
An increase in belly fat should set alarm bells ringing because in many cases it's a key factor in a variety of health problems such as heart disease, type 2 diabetes, and even some types of cancers. The good news? The threats posed by belly fat can be reduced. A health check up with one of our GPS can help you get on track and start your journey towards improved health.