Frown Lines
Frown lines can not only make a person look older than their years but also hard-faced and miserable.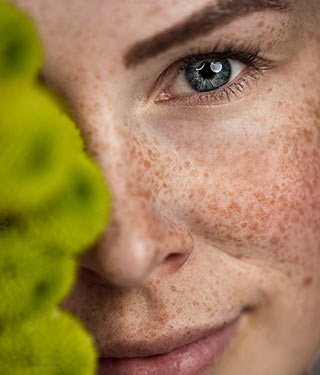 How to Beat Sun Exposure
Frown lines can appear as two deep furrows between the eyebrows or horizontal lines across the forehead. They develop as a result of many factors including too much sun exposure, natural gravity, excess facial movement and genetics.
Anti-wrinkle injections can treat frown lines by reversibly relaxing facial muscles to smooth unwanted frown wrinkles and stop deeper lines forming while laser treatment and peels can also improve their appearance.
At Meyer Clinic our team of skin experts work with clients to devise the best treatment plan tailored to their specific needs and requirements.
Injectables
Anti-wrinkle injections are a naturally purified protein often prescribed by doctors in the UK to treat medical conditions such as chronic migraines and is a popular and proven method for treating frown lines. Administered properly by a fully-qualified medical practitioner, injections will visibly diminish frown lines but enable movement in your facial expressions to remain and avoid an unwanted frozen look.
Elos Sublime
Elos Sublime is an FDA-approved non-invasive skin treatment that tightens skin and reduces the appearance of wrinkles. It combines bipolar radio frequency with light energies to comfortably heat the dermal tissue, stimulating collagen production within the target treatment area. The stimulated collagen production produces a firming and tightening of the skin. Fine lines are reduced, facial contours are improved, and overall skin quality reveals a much smoother and even complexion. It works great in combination with injectables and Ultherapy®.
Chemical Peels
At Meyer Clinic, we offer a range of gentle and medical-grade peels using leading brands such as Obagi and ZO®. Chemical skin peels go beyond exfoliation by providing dermal and epidermal stimulation and supporting skin renewal and rejuvenation. Chemical peels can help remove dull, unhealthy skin cells and boost the production of healthy cells beneath the surface. This results in enhanced skin tone along with a noticeable improvement in the appearance of fine lines and wrinkles.