Age Spots
Age spots – also known as liver spots and solar lentigines – are small dark areas on the skin.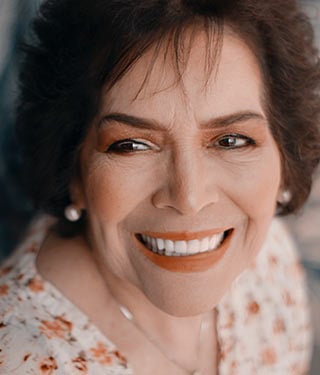 Signs of Ageing
Age spots vary in size and occur on skin that has had the most sun exposure over the years, such as the backs of hands, tops of feet, face, décolletage, shoulders and upper back.
Age spots are very common in adults older than 50. They are one of the tell-tale signs of a person's true age and can make a young person appear much older.
At Meyer Clinic, we offer a range of treatments which can fade the appearance of age spots including Skin Rejuvenation by Elos which uses Intense Pulsed Light (IPL) to deliver transformative and long-lasting results.
Skin Rejuvenation by Elos
This advanced light treatment combines Intense Pulsed Light (IPL) with radio frequency to effectively eliminate age spots. This non-invasive, no downtime treatment works by attacking foreign skin cells such as sun damage and age spots with targeted light. The body then naturally repairs itself, pushing the affected cells to the surface of the skin. Treatment results in a gradual lightening and improvement of the appearance of age spots and improved skin texture and tone.
Nu-Derm® by Obagi
This complete skin care system from Obagi Medical is specially formulated to help reverse the signs of ageing such as age spots. A consultation with one of Meyer Clinic skin experts will determine which system is right for your skin type and concerns. Each range includes several products which work synergistically, in ordered steps, to improve skin tone and texture. Nu-Derm® by Obagi is only available at physician-led clinics.
Blue Peel Radiance
This salicylic acid-based peel from Obagi can be used on its own or in conjunction with other Obagi skin care products for maximum results. It exfoliates the skin, leaving it feeling smoother and softer. It differs from other chemical peels in that our therapists have more control on the depth of the skin being treated which means treatments are tailored to each person's individual skin needs. Regular peels can improve the appearance of pigmentation and age spots.