Stretch Marks
Stretch marks can appear on areas of the body where there's weight gain and fat is stored.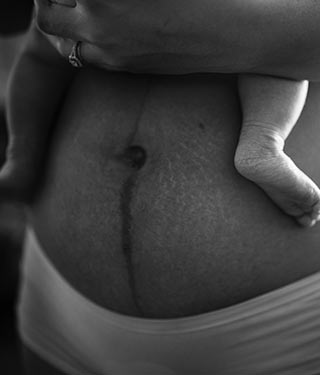 Do Stretch Marks Fade Away?
Stretch marks can be a result of a rapid growth spurt, especially in adolescent boys, and affect women during the later stages of pregnancy as the baby grows to full term. Although stretch marks fade after these natural life occurrences, they may not disappear completely.
Many people who suffer with stretch marks feel self-conscious about them. But with today's latest aesthetic technologies there are many non-invasive options for treating stretch marks that have significant effects.
Talk to us about the treatments we offer for this condition.
Dermapen®
Dermapen® microneedling works on the skin's natural ability to repair itself when it encounters injury. Dermapen® moves across the skin making pinpoint punctures which trigger new collagen production. When you microneedle stretch marks, it helps to promote regeneration of the skin around the area. Skin is lifted, tightened and rejuvenated, with the appearance of stretch marks minimised.
Elos Sublative
Elos Sublative rejuvenation combines bi-polar radio frequency and light energies to precisely heat the dermal tissue, stimulating collagen production. The appearance of stretch marks are visibly reduced as skin becomes much tighter, smoother and more even in tone. This is a non-invasive, no-downtime treatment. Contact us to find out more.
Mesotherapy
Mesotherapy is a treatment that involves injecting a bespoke formula of pharmaceuticals, hyaluronic acid, natural extracts, vitamins, minerals, and homeopathic agents uniquely tailored to an individual's skin. As well as being used to rejuvenate skin, Mesotherapy is also used to improve scarring and stretch marks. Mesotherapy should only be administered by an experienced medical professional.