Acne Treatment
We create bespoke plans for the eradication of acne, acne scars and discolouration.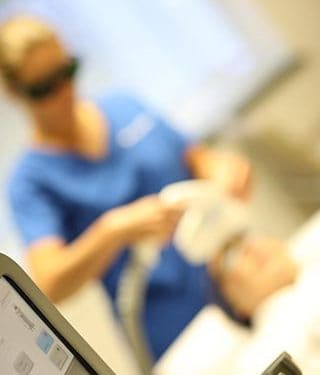 A Progressive Approach to Acne
At Meyer Clinic, we offer a 360º approach to acne care on a personalised level.
We believe in a comprehensive approach to treating and preventing acne which includes guidance on diet, lifestyle choices and step-by-step information on effective and manageable at-home acne care.
Our skin experts work in partnership with individuals to examine and design a bespoke treatment plan. We offer progressive acne treatment with state-of-the-art technology and the most effective acne combatting therapies and procedures.
Dermapen® is the number one microneedling system and at Meyer Clinic we use it to successfully treat many patients who suffer with acne scarring. This is a minimally-invasive treatment that can be used on its own or in combination with other treatments and products in a long-term plan towards clearer, smoother, healthier-looking skin.
Research suggests that following a healthy diet can help prevent and treat acne. Specifically, foods rich in nutrients such as complex carbohydrates, zinc, vitamins A and E, omega-3 fatty acids and antioxidants are linked to lower levels of acne. Our Nutritional Therapist Dominique Ludwig is a specialist in treating skin conditions including eczema, acne, hyperpigmentation, psoriasis and rosacea. In consultation, she can take you through the most effective areas of nutrition to protect, heal, calm, balance and rejuvenate your skin from the inside out.
Acne scars can penetrate deep into the dermis so in order to repair them it as just as important to fill the tissue under the scar as it is to smooth out the surface of the skin. At Meyer Clinic, Dr Meyer has developed a skin bio-remodelling programme to treat acne and acne scarring. Profhilo®, which has one of the highest concentrations of hyaluronic acid (HA) on the market, is injected under the indentation of atrophic scars to fill and remodel. Regular treatment is required to maintain results.
As part of Meyer Clinic's treatment plan for acne and acne scarring, our skilled aesthetic therapists work with specially-formulated chemical skin peels. Fruit Acid, Salicylic Acid or Trichloroacetic Acid (TCA) are used, in varying concentrations, to penetrate deep into the skin's layers to unclog pores while removing the surface of blackheads and spots. The peels' contents remain in the pores, working to keep them clean, which is perfect for improving acne-prone skin. Scars may also be less visible and the complexion will be smoother and more even overall.
An imbalance of hormones can play a huge part in triggering acne. Puberty, pregnancy, post giving birth, the menopause, andropause, and stress can all push hormones out of sync which can then impact the skin. At Meyer Clinic, under the direction of Dr Meyer, we offer a range of tests to help identify the cause of any hormonal skin complaints and conditions. Once we have that information, our medical team can create a tailored plan that works from the inside out to clear and brighten skin.
Let our expert skin therapists create a bespoke skincare plan for you. We use CLENZIderm M.D.™ Systems, the only prescription-strength acne therapies that contain a solubilised form of 5% benzoyl peroxide (BPO) designed to penetrate deep into the follicle and clear acne fast. Use this at home as part of your journey towards improved skin health.