Wrinkly Chest
The neck and décolletage are as important as the face as indicators to a person's true age.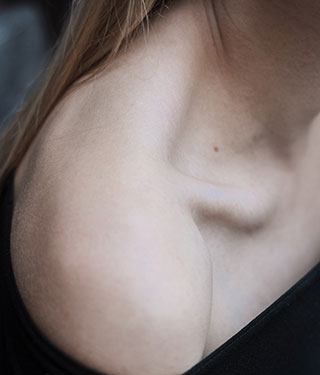 Premature Ageing
Areas where the skin is at its thinnest are likely to be some of the first areas to "go" in the ageing process.
Factors such as genetics, lifestyle and sun exposure can all lead to premature ageing of the chest area, resulting in wrinkles and crepey skin.
Meyer Clinic offers several non-invasive chest rejuvenation treatments to reverse the signs of ageing and to correct the appearance of sun damage.
Lift, Plump & Tighten
Ultherapy® is the only FDA-cleared, non-invasive treatment to improve lines and lift and tighten the skin on the décolletage and neck by using tried-and-tested ultrasound technology to gradually strengthen skin from deep within. It stimulates and remodels natural collagen and encourages tissue growth. It can be used as a stand alone treatment or in combination with other procedures such as Profhilo® or IPL. As the unique ultrasound energy is targeted to where it's needed results are long-lasting and highly effective.
Hydration Boost
Profhilo® is an injectable that boosts and hydrates the skin as well as lifting and tightening sagging tissue. This unique skin remodelling treatment stimulates the production of collagen and elastin with a slow release of hyaluronic acid (HA) which significantly improves the appearance of fine lines and wrinkles. Profhilo® gives skin a huge hydration boost while improving the overall tone and texture with natural and subtle results. Unlike dermal fillers, Profhilo® does not add volume, but delivers a boost of hydration from within.
Skin Rejuvenation
Skin rejuvenation by Elos Sublime uses Intense Pulsed Light (IPL) therapy to erase mild sun damage, freckles, irregular pigmentation and light brown spots on the neck, chest and décolletage. This treatment treats the skin with quick and powerful flashes of light. The light energy then penetrates below the skin's surface, where the unwanted brown pigment (melanin) lives. The heat breaks down this pigment into tiny particles, which either rise to the skin's surface as scabs, or get carried away by the lymphatic system.