Ultherapy®
The only FDA approved non-invasive treatment to lift and tighten the skin naturally.
Ultrasound Treatment to Lift & Tighten the Skin
Ultherapy® is the leading ultrasound non-surgical treatment for lifting and tightening the skin on the face, neck, chin, brow and smoothing fine lines and wrinkles on the décolletage.
The treatment utilises ultrasound therapy to penetrate deep into the middle layers of skin tissue to stimulate collagen and elastin production and encourage regeneration. It also incorporates traditional ultrasound imaging, which allows practitioners to see the layers of tissue they are treating, ensuring the treatment energy is delivered to where it will be most beneficial.
How Does Ultherapy® Work?
By using controlled heat energy at optimal depths below the skin, Ultherapy® triggers the body's natural response to strengthen weakened tissue without damaging the skin's surface. As new collagen and elastin – the proteins that help build structure – are produced skin becomes more tight and lifted.
A natural and subtle lift without invasive surgery.
It leaves the skin looking naturally healthy and lifted, no lumps and bumps just a gentle tightening. It's why it is a favourite treatment with Hollywood A-listers, celebrities and royalty, alike.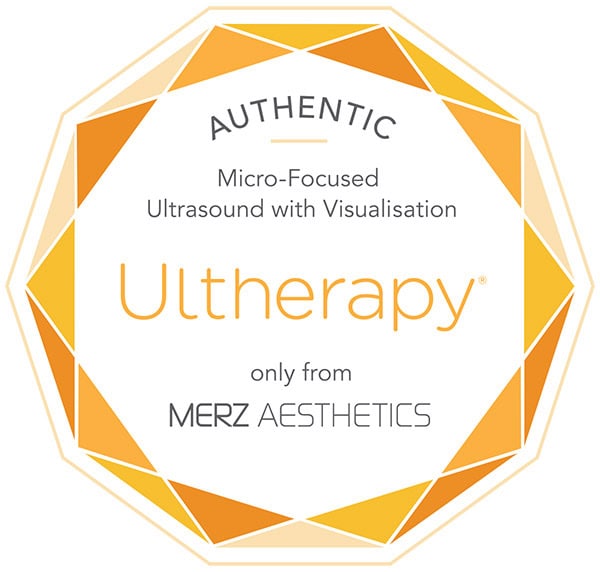 Unlike lasers, radio frequency, surgery and other technologies, non-surgical Ultherapy® bypasses the surface of the skin to deliver the right amount of ultrasound energy at the right depths and the right temperature. This energy triggers a natural response under the skin, jumpstarting the regenerative process that produces fresh, new collagen.
Some patients see an initial effect immediately after their treatment, but the full results appear over 2−3 months, or even up to 6 months as new collagen works to lift and tighten skin on the neck, chin and brow as well as smooth skin on the chest. Ultherapy® is a clinically-proven non-invasive alternative for those not ready for surgery – and can even be an option for patients who wish to extend the effects of cosmetic surgery.
Most patients need one treatment. However, based on the degree of skin laxity, the biological response to ultrasound energy and the individual's collagen-building process, some patients benefit from additional treatments. Because skin continues to age, future touch-up treatments can help patients keep pace with the body's natural ageing process.