CoolSculpting®
Reduce unwanted body fat and resculpt your shape with no surgery and no downtime.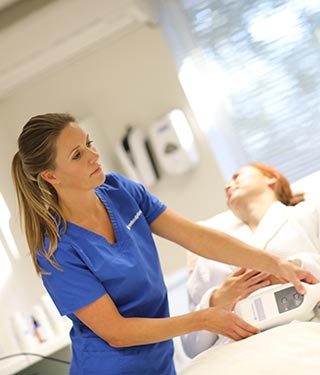 Long-lasting, visible results
CoolSculpting® is the only FDA-approved non-surgical fat reduction treatment.
The procedure can deliver long-lasting body fat reduction without the downtime that is associated with surgical procedures delivering similar results.
CoolSculpting® is proven to work in eliminating fat cells as a body contouring procedure.
No needles, no surgery, no downtime
This revolutionary treatment targets those stubborn pockets of fat that are resistant to diet and/or exercise. Most areas of the body can be treated including the tummy, double chin, inner and outer thighs, flanks, back fat, bra fat, arms and knees. The procedure takes between 35 and 60 minutes depending on the area being treated, with many patients opting to popping in during their lunch break for treatment. Meyer Clinic is one of only a select few establishments in the UK offering DualSculpting®, reducing treatment times by half for some areas.
Targeted fat freezing
CoolSculpting® safely delivers precisely controlled cooling to target fat cells beneath the skin. The cells are crystallised then shrink and die, with the body eliminating them naturally through the lymphatic system. Once the fat cells have been eliminated they are gone for good. Results will begin to show as early as four to six weeks after treatment with progressive improvement up to 16 weeks as the body continues to flush out the dead fat cells post treatment. Targeted areas can appear smooth, toned and re-contoured.
The CoolSculpting® procedure is completely non-surgical, which makes returning to normal activities afterwards a typically easy process. In many cases, our patients even return to work after their CoolSculpting® treatment is over. This makes it a great alternative to invasive surgery such as liposuction as well as a more affordable option.
Fat cells that go through cryolipolysis in other words are frozen during the CoolSculpting® procedure gradually filtrate and leave the body through the body's natural processes. That is why the treatment continues to work months post procedure and results often much more long term than other treatments.
At Meyer Clinic, many of our patients choose a customised treatment plan, opting for more than one CoolSculpting® area to be treated. This may include freezing away fat from their inner/and or outer thighs while also reducing stubborn pockets of fat around their abdomen. At Meyer Clinic, we offer DualSculpting® which enables our experienced practitioners to treat different body areas at the same time, in many cases reducing treatment time by half.
CoolSculpting® is the only FDA-approved system for controlled fat freezing, also known medically as cryolipolysis. It is the only controlled cooling device that is designed with built-in safety measures; if sensors detect the skin is getting too cold, the system will shut down automatically, thus delivering safe and effective treatment. The CoolSculpting® procedure is the result of years of technological development and significant clinical trials, designed to ensure the treatment is safe and effective. There are a number of copycat devices on the market many of which lack safety features of genuine CoolSculpting® devices. Always check to see if a clinic is a certified provider of CoolSculpting®.
CoolSculpting® is a proven technology that gets real results, and aesthetic clinicians and therapists who deliver the treatment undergo extensive training to ensure the safety of patients before, during and after their procedure. At Meyer Clinic, we are committed to delivering the most safe, effective and outstanding results for our patients which is why our aesthetic practitioners regularly attend advanced training programmes to ensure their skills and practices are up to date.
At Meyer Clinic, many of our CoolSculpting® patients begin to see results from as earlier as four weeks' post-treatment, with optimum results visibly between eight and 12 weeks after treatment. For many, this one session of CoolSculpting® is enough to deliver the desired result. However, many of our patients choose to have several treatments on the same area or in multiple areas, depending on the outcome they are hoping to achieve and the location of the fat they are targeting. Our skilled CoolSculpting® practitioners will be able to talk though all the various treatment options available at consultation.