Medical Consultations
Giving individuals and families the time and care they need and deserve for their health and general wellbeing.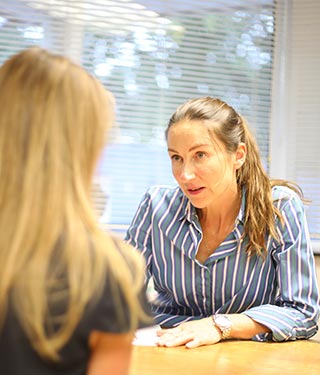 What to Expect
Meyer Clinic prides itself on being able to offer excellent quality of care to its patients. We offer the luxury of time and ease of access so that we can fully explore, understand and manage our patients conditions and concerns. With teams of professionals on hand, we are able to make referrals and access test results fast and efficiently.
Our consultations offer patients protected, dedicated time for them to discuss their health concerns with our medical professionals and specialists. Each consultation includes:
One private prescription
One external referral letter
One 10-minute follow-up telephone call (if required)
Additional services include repeat private prescriptions, blood tests, urinalysis and arrangement of scans and investigations. On request, we can produce medical reports, additional doctors letters and fitness for work notes.
Telephone consultations, Skype and email consultations can be arranged.  Our patients may use us exclusively as their only GP service, or in combination to their NHS practice.
Our consultations do not end when a patient leaves our GPs surgery; we offer excellent continuity of care, with follow-up telephone calls and rapid referrals as standard. All of our services are provided by experienced clinicians and therapists ensuring patients receive the best possible care.
As a private GP, we offer same day appointments, short waiting times and refer to a host of medical professionals and specialists with the emphasis on accessibility and excellent quality of care. Many test results are also received same day.
We take pride in searching beneath the surface in order to identify and address the root causes of illnesses and not just treating the symptoms. We offer extended appointment times to enable good quality care to be established, based on full understanding of the issues presented.
We recognise that our patients lead busy lives and need to see a GP at a time that is convenient to them. Meyer Clinic offers appointment times to suit everyone, this includes mornings, lunchtimes, evenings and weekends.
At Meyer Clinic, our appointments are 30-minutes and are an opportunity for you to discuss any health concerns you may have with one of our experienced private GPs. Shorter and longer appointments are available at your request, or on the advice of your GP.
At Meyer Clinic, our doctors always endeavour to provide as much flexibility as possible and will do all they can to accommodate any extended appointment. However, should you require more time for your appointment, additional consultation fees will apply and will be charged pro-rate per 15 minutes.
We do operate a cancellation policy. We're pleased to cancel and re-schedule any appointments at any time, without any penalty, up to 24 hours before your appointment. However, less than 24 hours' notice of cancellation, re-scheduling or non-attendance on the day, does incur a 50% cancellation fee. If you are aware you may be late for your appointment, please contact our Reception team on 01243 771455 at the earliest opportunity and every effort will be made to accommodate you.