Skin Peels
Promote regeneration and repair to improve the skin's appearance and health.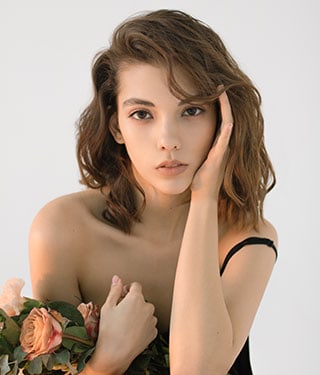 How Do Skin Peels Work?
Chemical peels are far from the harsh skin experience they sound like. By using controlled amounts of gentle products from world-leading skincare brands such as Obagi and ZO, our aesthetic therapists can promote tissue regeneration and repair by chemically exfoliating the skin's outer layers.
Skin peels remove damaged outer layers of skin on the face, neck, chest and hands to smooth texture, correct uneven tone, reduce scarring, and remove blemishes to deliver visibly healthier, glowing skin.
Individually Tailored
At Meyer Clinic, our gold-standard peel formulas and strengths range from mild to strong, and are specifically tailored to the skin needs of each individual patient.
Superficial peels, such as alpha hydroxy acids, require no downtime but we do recommend a series of small peels over time, usually spread two to four weeks apart. These peels, also referred to as glycolic peels, work by "munching" the damaged skin cells and allowing them to easily slough off.
Deeper peels penetrate further and can smooth, tighten and correct the appearance of the skin. These stronger peels can involve some peeling and may require a little downtime immediately after treatment.
Our highly-skilled skin experts take every opportunity to discuss with clients what they are hoping to achieve from a chemical peel, and create the perfect treatment accordingly.
Reveal younger, healthier-looking skin one layer at a time with this gold-standard superficial salicylic acid-based facial chemical peel.  Blue Peel Radiance by Obagi exfoliates and helps improve overall complexion, and provides firmer, smoother, brighter-looking skin. Able to target deeply clogged pores and reduce any post-inflammatory spots that have been left by breakouts, this peel is a great treatment for acne-prone skin. It is also suitable for those with surface sun-damage, as the salicylic acid content helps to shed sun spots and areas of pigmentation to reveal a brighter, newly refreshed complexion. For best results our therapists recommend a course of between four and six peels.
Widely referred to as the "red carpet facial" due to its popularity among celebrities who need to look picture perfect under the intense photography lights, ZO Ossential Stimulator Peel brightens the skin by stimulating cellular turnover. Although a powerful peel it is infused with anti-inflammatory ingredients to make this peel non-irritating but able to create a brighter, fresher and youthful glowing skin. A perfect peel for when you want to give your skin a quick boost of loveliness.
A combination of Blue Peel Radiance with Dermapen® microneedling is one of Meyer Clinic's signature skin rejuvenation treatments.  This combination which sees the chemical peel acting as an adjuvant to microneedling causes controlled skin damage, promoting regeneration and rejuvenation of tissues. This combined therapy visibly improves fine lines, wrinkles, and overall appearance of the skin. A consultation with one of our expert skin therapists can design the perfect skin solution for you.