Dermapen® Microneedling
The latest advance in microneedling to actively stimulate the skin's regeneration process.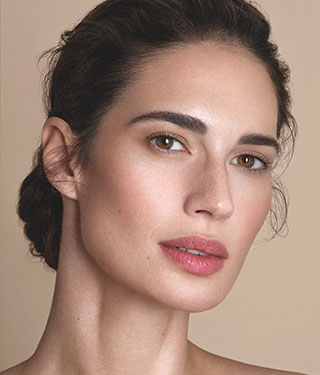 Advanced Technology for Skin Rejuvenation
Microneedling, also referred to as Collagen Induction Therapy, is a skin rejuvenation treatment that can improve skin texture, reduce wrinkles, shrink pores, and smooth scars.
At Meyer Clinic, we use Dermapen® technology, which is an advanced microneedling device that stimulates the production of new collagen and new skin cells, plumping the skin and making it fresher and smoother.
Dermapen® works by penetrating the skin with tiny needles, creating minute wounds in the deeper dermis that trigger the body's own repair system. This naturally stimulates the creation of new collagen to help tighten, plump and lift the skin. It helps in reducing fine lines, wrinkles and large pores, minimising stretchmarks, and various types of scars as well as improving skin texture and tone.
A Dermapen® treatment also improves the penetration of creams, gels and oils on the skin, ensuring that skin products are able to penetrate the skin more effectively resulting in healthier and smoother complexion.
While the face is usually treated with the Dermapen®, the treatment can be carried out on any area of the body.
Stretchmarks are almost impossible to treat. However, at Meyer Clinic we achieve remarkable results with Dermapen® microneedling, a therapy that has been clinically proven to fade the appearance of scars and stretchmarks. The treatment achieves this by piercing the skin with microscopic needles which break up the tough, stringy fibers that make up scar tissue. This triggers the body's natural healing response, prompting the production of fresh collagen, creating new, stronger, more elastic fibers to replace the scar tissue. Skin looks smoother and feels more flexible, with the appearance of stretchmarks minimised.
Dermapen® is the number one microneedling system and is clinically proven to reduce the appearance of scarring caused by acne. At Meyer Clinic, our team of highly-skilled skin therapists successfully treat many patients who suffer with acne scarring. We find microneedling works best for depressed acne scars. This has to do with the collagen-inducing effects of the treatment; a person with raised acne scars already has excess collagen in the area. We also can treat darker skin tones with Dermapen®. If you are suffering with acne scarring, book in for a consultation with one of our skin experts to talk through all the available treatment options.
Collagen is arguably the best way to improve the look and texture of skin. Stimulating collagen growth with microneedling can reverse sun damage and discolouration. Microneedling involves using fine needles to create hundreds of tiny, invisible puncture wounds in the top layer of skin. The micro-injuries stimulates the body's natural wound healing processes, resulting in cell turnover and increased collagen and elastin production. This can improve the appearance of ruddy and discoloured skin which has been cause by prolonged exposure to solar rays.